Development & Manufacturing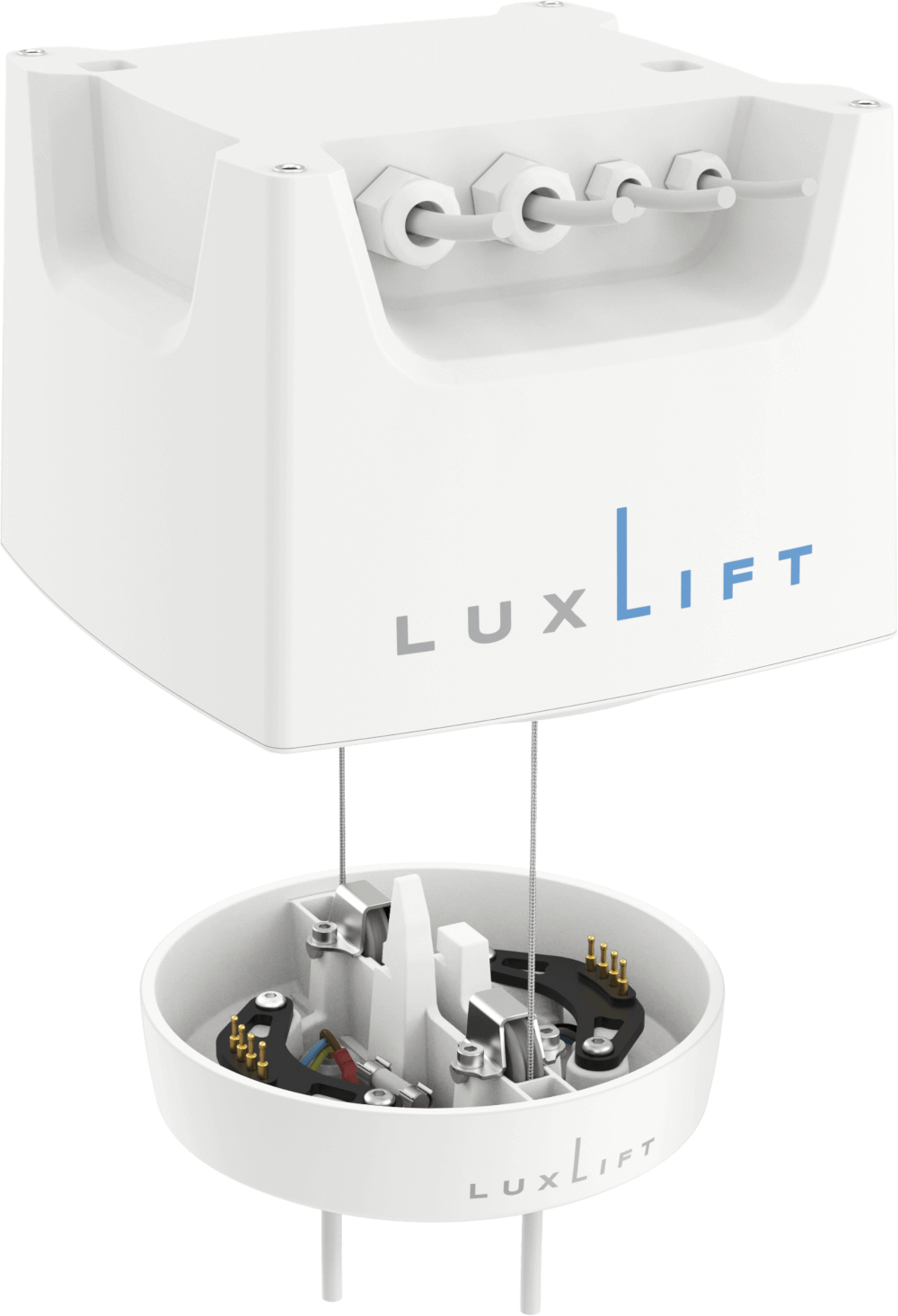 change,
maintain,
repair
Efficient and reliable!
Wether lamp, advertising banner, chandelier or decoration:
The smart lifts from Luxlift lower your item to a comfortable working height.
Maintenance work, such as replacing a lamp, will now only take a few minutes – ladder or scaffolding are no longer needed.
Safety and cost savings, as well as time savings through efficiency, go hand in hand with LuxLift.
What is a LuxLift?
LuxLifts are luminaire and advertising lifts that allow lighting fixtures or advertising objects to be lowered from the ceiling to a comfortable working height. This makes changing lamps, cleaning or changing advertising banners a matter of minutes.
SIMPLE – no ladders, scaffolding or lifting platforms required
SAFE – Accident prevention: no working at height, power disconnected while lowering
FAST – Light bulb replacement / advertising banner change within minutes
What are LuxLifts used for?
LuxLifts enable you to raise and lower a wide variety of objects in an uncomplicated way and have an additional lighting circuit as standard as well as four auxiliary contacts for switching through further signals. This enables the electrical supply of attached objects, such as lamps or illuminated advertising objects, and allows connection to DALI, DMX or emergency power systems.
However, LuxLifts can also be used without connecting the lighting circuit, making them ideal for advertising banners or decorations.
Where are LuxLifts used?
LuxLifts are suitable for all applications where you would like to do without ladders, scaffolding or lifting platforms. This is limited by the lowering distance and the lifting weight. Our product range is being further expanded – should you have different requirements, our technicians are at your disposal for adaptations.
With the LuxLift TURN rotary-arm lift, it is possible not only to lower the lighting, but also to rotate it up to 180° before lowering. This means that Luxlifts can also be operated above inaccessible places (e.g. stairwells, railway tracks).
Luxlifts can also be used outdoors when using our weather protection cover.
LuxLifts double cable technology effectively prevents the suspended object from twisting.
How to operate a LuxLift?
LuxLifts can be conveniently controlled via an app or wired with control lines and manually lowered to the desired height.
Lowering stops for working height and floor height can be stored both via the app and via control cables.
The app can be used to store and read out additional information about the lifts (e.g. operating hours counter, date of last maintenance, etc.).
It is also easy to set up synchronous groups using the app.
What are synchronous groups?
Luxlifts can be connected together via app so that they raise and lower simultaneously. This allows large objects such as screens or large advertising objects to be safely attached.
Does my luminaire / object influence the product selection?
The main selection criterion for a LuxLift is the lifting force required and therefore the weight of the object you wish to suspend.
Several mounting plates are available for attaching the lift to the ceiling or beams, allowing single-point or multi-point suspension. Suspended mounting is also possible with our variable mounting bracket.
The object is attached to the Luxlift either directly or by means of a mounting plate. We also offer the individual production of mounting plates, adapted to your object.
Our inspection cover plate enables inconspicuous installation in false ceilings.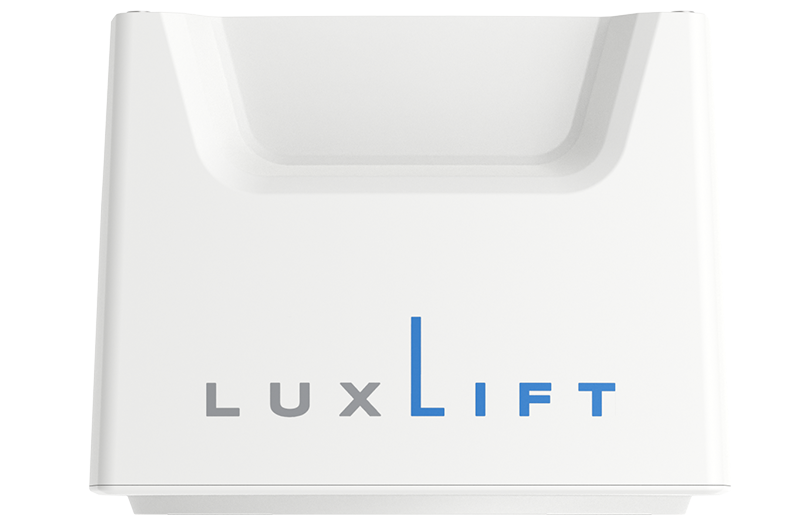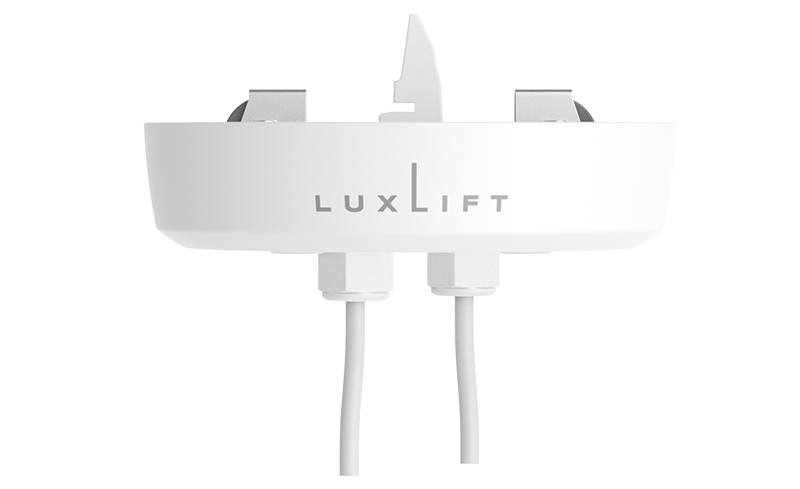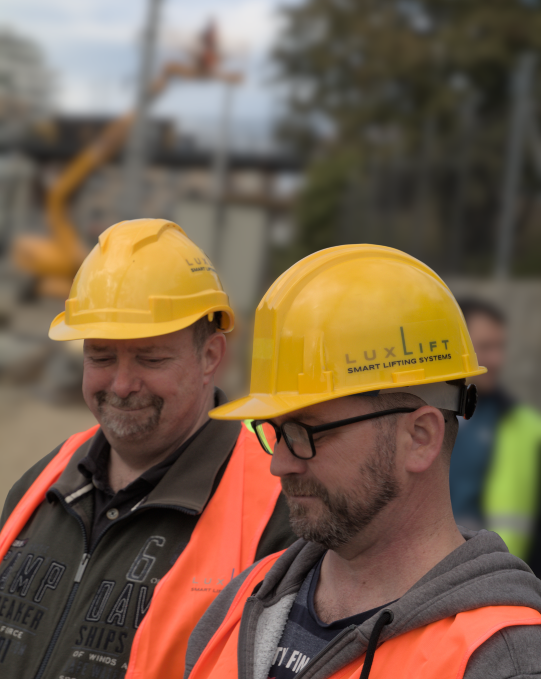 LuxLift Team
In 2017, Erwin Dietrich became aware of the special problem of track lighting. These are installed in the vicinity of high-voltage power lines, which is why replacing lamps there is an expensive and time-consuming challenge. The idea was born to develop a rotating arm lift for ÖBB and to set up a production facility for lighting and advertising lifts in Austria.
With the Technical University Vienna as a development partner and the "Stolz auf Wien" initiative, the ambitious plans could be realised and resulted in the founding of LuxLift HandelsgmbH. An expansion of the product range (higher lifting loads and alternative fastening methods) is already being planned.